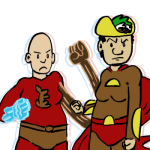 Fatter than a speeding bullet... more hungier than a locomotive... able to eat footlong hoagies in a single bite. Look! Up in the sky! It's a hoagie...
...it's a wrap...
it's Captain Tacolicious!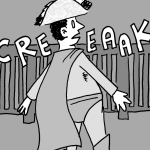 After horking himself into a parallel universe Captain Tacolicious meets an alternate version of himself who never acquired his remarkable (and trademarked) taco powers.
Can Captain Tacolicious teach himself the true value of heroism or will he doomed to remain trapped in our bleak mundane world for the rest of his days?
Available in the following formats & stores...
Digital:
Webcomic ·
Print:
In a Single Bound #1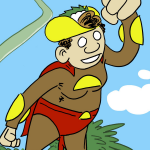 Everybody knows that Captain Tacolicious ate an exploding taco and it imbued him with incredible taco powers... but have you ever wondered how and why he came to eat that fateful taco in the first place? What does Cap's arch-nemesis Mr. Asparagus have to do with it all? And where did faithful Candyman's powers spring from? Find out in The Origin of Recpies!
Beantown City's foremost diabetic duo, Captain Tacolicious and Candyman have faced many threatsóbut none so strange as the one they face now. After a confrontation with Mr. Dracula, Candyman's powers go haywire. The only solution? He must travel to the Food Pyramid in distant Mexico and face off against the elementals of foodóDurian Gray, Bake Master, Meat Head, the Wisconsin Cheese Beast, and Cap's arch-nemesis Mister Asparagus. Can our heroes discover the delicious truth? Or are they doomed to go hungry?