Comics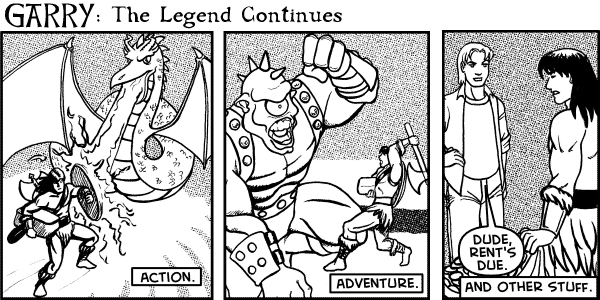 Garry is a comic about a barbarian and his roommates. Jobs, dating, necromancers, Garry has to deal with it all.
He was just an ordinary fat guy until a he ate an all-you-can-eat taco restaurant
into submission. When the villainous manager attacked him he transformed into something
else entirely: a hero.

Blessed with amazing taco powers he is now fatter than a speeding bullet, more hungry
than a locomotive and able to eat foot long hoagies in a single bite. Tragically, he
lives in a universe with more than enough superheroes to go around, so he rarely gets
to beat up bad guys. At least he gets to wear spandex.
Hurtling across the cosmos at a thousand times the speed of light, solving mysteries, saving planets and exploring the far-flung stars, the Starship Victory will whup any forehead aliens good.
With her life in the toilet Melly Peahen thought it was a good idea to move across country for a new start…but she's starting it all over in Buckston from scratch. No family, no friends, no home or job. That was a bad idea? Wasn't it?

Moose couldn't get laid if he tried, and believe you me, he's trying. Blessed with the most terrible luck in women Moose perseveres and continues on, no matter how bad each date he goes on is.

A mad scientist resurrected Hitler for no adequately explored reason. As soon as Hitler went berserk the scientist only had one option to make right this terrible wrong: Assemble a team of history's greatest scientists to battle this terrifying new Fourth Reich.


A precursor to my minicomic Out from the Nest, Chibi Penguin goes on an adventure to exact revenge on a dangerous orca who just might eat him. Can Chibi Penguin destroy the evil Killer Whale? Find out.