Joey Peters is a writer, cartoonist and beauty contest champion. His work has appeared in "In a Single Bound", "Leftovers of the Living Dead", the Weekly Dig and Boston Phoenix. He lives in Boston with his wife and extensive collection of comic books.
Here are some of his latest works: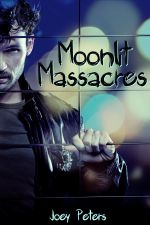 Max knows he has a monster deep inside himself. He can control it most of the time—fight the depraved and nightmarish hungers—but on the night of the full moon he can't help but give in to his dark desires and he is consumed by his lycanthropic nature.
After assaulting the home of a drug lord Max discovers that he's not the only monster out there. Soon, Max is pulled into a gang war between a vampire and a mysterious sorcerer. They try to use his best friend Rose as leverage—but she has a secret of her own.
Can Max and Rose calm the discordant devils inside themselves?
Can they quiet the conflict between Iron Vlad and Doctor Limba before it boils over?
Or will they be consumed by their bestial desires and live a life of moonlit massacres?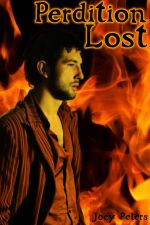 When the Devil abdicates the throne of Hell the netherworld is thrown into disarray.
It's not surprising that many of the damned try to use the chaos to try and escape the smoldering cauldrons of damnation, but Pete's best friend is a demon, so he succeeds where many others fail. Once back on Earth he wants nothing more than go track down his old friends, family and lovers and resume his old life.
Unfortunately for him, the conflict below is boiling over and it's only a matter of time before Pete and his best friend Dante get pulled back into the infernal war. The Devil's chosen successor isn't popular with the legions of Hell. The Angel of Death has gone mad. Baba Yaga is planning something, though nobody is completely certain what she's planning.
On their quest to restore order to the discord of hell they meet a variety of angels, demons, alchemists, eldritch abominations and a variety of figures from European mythology.
Can Dante and Pete calm the looming conflict?
Or will all Hell break loose?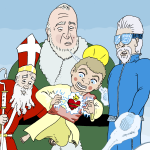 The most sacrilegious Christmas story ever told!
After one of his little helpers is brutally murdered Santa Claus is kidnapped. Who can save him? Only the Santa Corps: a team of the mythological and religious figures who inspired him... Father Christmas, Saint Nicholas, Grandfather Frost and the baby Jesus. But the battle ahead of them is tough. They must fight their way into the heart of perdition itself to have even a hope of rescuing the Jolly Old Elf. Can the Santa Corps defeat the demons, dethrone ancient pagan idols and save the true meaning of Christmas?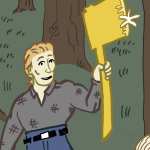 Big Red McLane is a billionaire, industrial, lumberjack and superhero. He has it all... except the World's Greatest Lumberjack trophy. Now McLane's greatest nemesis, the immortal, demonic lumberjack Paul Bunyan, will stop at nothing to deny McLane his greatest glory.
Available in the following formats...
Digital:
Webcomic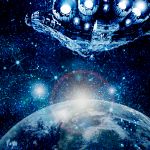 Starship Victory is a series of episodic, intertwining short stories set aboard a vessel exploring the strangest galaxy in the universe. The crew encounters weird aliens, bizarre diseases, space gods, card games and warped social commentary. And through it all one mystery perpetually seems tantalizingly close to a solution: why are there so many worlds in the cosmos that are exactly like Earth...?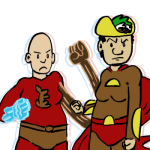 Fatter than a speeding bullet... more hungier than a locomotive... able to eat footlong hoagies in a single bite. Look! Up in the sky! It's a hoagie...
...it's a wrap...
it's Captain Tacolicious!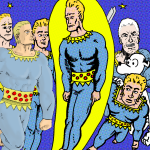 A reimagining of Stardust the Super-Wizard. In the Golden Age Stardust was the ultimate superhero with no limits on his powers or morality. Now, in Attack of the Super-Wizards he's slammed into every era of comic book history, from the Glittering Golden Age, all the way to the Festering Fecal Age and beyond!!
Beantown City's foremost diabetic duo, Captain Tacolicious and Candyman have faced many threats—but none so strange as the one they face now. After a confrontation with Mr. Dracula, Candyman's powers go haywire. The only solution? He must travel to the Food Pyramid in distant Mexico and face off against the elementals of food—Durian Gray, Bake Master, Meat Head, the Wisconsin Cheese Beast, and Cap's arch-nemesis Mister Asparagus. Can our heroes discover the delicious truth? Or are they doomed to go hungry?